Don't overthink it—there's a simple formula you can follow when writing copy for your virtual assistant website that makes the process easy and your site effective
Now that you've decided to free yourself from the rat race and become a virtual assistant, you're going to need a website. As you likely well know, websites are the calling card and informational hub of any business and the starting point of contact for almost any and every client, so it better be good!
Whether you build your own virtual assistant website or leave it to the pros, there are some gold standards that you'll want to abide by to maximize the impact it makes. Following a simple formula can help you streamline the process and allow you to sort the information you want to get across in an easy to digest format. A well-designed virtual assistant website should act as a funnel to nudge potential customers toward your business. You need to let them know why they should choose you instead of the competition, and there's a right way and a wrong way to do just that.
Home page
This is the big opener. The first thing people will see when they go to your virtual assistant website. It needs to captivate the visitor, or they will move on, and you have only seconds to do this. You need to be concise yet informative, and visually pleasing without going overboard.
Hero section
On the homepage of your website is where you'll build your "Hero Section." As the name suggests, the hero section is where you'll show potential clients that you are the hero that can save them time and money and free them from the drudgery of the tasks they are looking to outsource (ideally to you).
We are very visual beings, and the first thing your eye will notice on a website before reading a single word will be any pictures, videos, or graphics, so they need to be good. As a virtual assistant, you'll want to feature a professional photo of yourself working at a computer, or an image related to the kind of work you'll be offering.
Having photos professionally shot for your virtual assistant website can cost a fair amount, but can also make a massive difference. We've all seen the difference between low/no-budget versus professional pictures. Great shots relay that you take yourself and your business seriously. If you can't afford a professional photographer, ask around your friends and family who may just have an artistic eye and a good cell phone camera.
You could also choose some stock photos for your website that relate to your field and convey what your virtual assistant business is about. There are both royalty-free and paid stock photography sites available to you, although clients like to put a face to the name when they are deciding to trust their professional assets to someone or some business, so a picture of you is preferable.
The hero section should cover five major pieces of information:
What you can offer
Whom you are trying to help/service
What the benefits of working with you are
Why they should trust you
What action should they take next
We are very visual beings, and the first thing your eye will notice on a website before reading a single word will be any pictures, videos, or graphics, so they need to be good.
Photos
If your website hero section uses a background image, keep it no wider than 2560px and under 300k in file size. Huge files bloat a webpage, resulting in much slower load times and as previously mentioned, speed is everything or potential clients will move on.
Again, ideally, it should be a picture of you in action as a virtual assistant, working on a computer or whatever it is you'll be offering. All other pictures on this page should be no wider than 1600px and under 300k in file size.
Header
The header typically contains the largest words on the page and needs to be immediately attention grabbing. It should be no longer than one short sentence and is the most important set of words on the page. The whole goal of every line is to get them to read the next one, and the next one, eventually clicking the call to action (CTA) button, where you move them to the next phase of onboarding.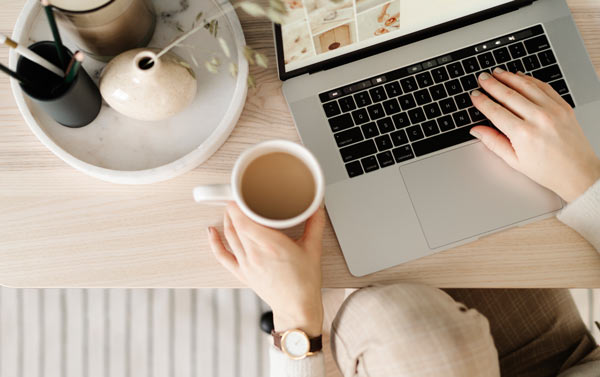 Subheader
A subheader is the next piece of writing that expands on the header and gives a little more information about you and your virtual assistant business. While it should expand on the header, its goal is the same: to snag the interest of the reader and keep them reading. Don't worry about telling them everything all at once—you'll go into greater detail throughout the page. The whole point of the homepage is to attract and snare the attention of the potential client.
Call to action (CTA)
The call to action piece of your website is a lot like the "add to your shopping cart" button on retail sites, and should take the potential client to the next step in the process. This may be a contact or signup form, but this is where the visitor shows their commitment and that they are ready to take the next step.
There should be a CTA easily accessible at any point on your virtual assistant website. That being said, you don't want to plaster your website with CTAs, though a potential client should never have to search far for one. You want to make it as easy as possible for them to proceed.
About the business section
Here's where you get to expand on what it is you actually do. For example, if you're trying to become a social media or content strategist virtual assistant, you could talk about how much you enjoy curating social media pages. You wouldn't want to go on and on about gardening, since it just doesn't apply to what your business is about. A brief mention of gardening might be okay to show a little of your personality, but it should not dominate the page.
If you really find it impossible to write about yourself personally, you could use this space to write about the process or workflow of working with you, i.e:
Introduction — how you'll actually meet, whether in person or online or by phone or however.
Inspiration — where the client shares their vision and what they hope to accomplish by hiring you.
Implementation — where you delineate exactly how you will put your business and yourself into action to translate their vision into reality.
Psychologically, viewers are drawn to groupings of three. This section can vary widely in what it lists, but keep them in concise groups of three wherever possible. Some possible subjects could be:
Things I love

List three things you love so potential clients can get a better idea of who you are.

My core values

List three of your core values so potential clients can see if yours align with theirs.

Reasons that brought you to this profession

Why are you choosing to be a virtual assistant?
Copy
Here we again further expand on your business and fill out some of the details. You'll want to write some about how you help your clients and who your clients tend to be. Search engines love lists, so we build them into the design of our virtual assistant websites. You can use the lists to explain all of the ways that you'll save your clients' time, the different types of software you're proficient at, the industries that you serve, etc.
Freebie or lead magnet offer
A Lead Magnet, as the name suggests, is a marketing term to describe a free item or service that is given in exchange for an email address or other contact information. More leads translate into more potential clients. You don't want to give away your core offering, but something to show what you could do for them. A hint at the possibilities that await them if they hire you.
If you don't have a freebie or lead magnet, leave this part out. And unless you want to be constantly updating your virtual assistant website, be sure the freebie you have is one that can work in the long term.
But if you do have one, feature it! Provide a teaser image of the product or service. Create an eReader mockup if it's a book or a computer mockup if it's a checklist or other online tool.
Write a short paragraph about the freebie and why your audience needs it. And of course, use an email opt-in form (or a CTA button that takes you directly to one) to capture their valuable information.
Featured service / intro to services section
Here's where you'll go into more detail on your virtual assistant website about what it is you can do for clients, and the main focus of your business. It's important to write in a way that tells them how they benefit. Features are great, but people just want to know what can benefit them specifically. It's up to you to connect the dots for them. Tell how it will save time/money, how it can free them up to pursue their life's passions while you take care of the work.
Testimonials section
People love to see great reviews, and testimonials add to your trustworthiness and perceived value. Some wouldn't even think of trying a new restaurant without at least checking out some online reviews. The testimonial section is like a curated version of exactly that. Gather positive reviews that your clients have given you and post them for the world to see.
Early on, you likely won't have any testimonials, and that's okay. It's also okay to ask clients or friends for them, especially if they like your work. There's nothing wrong with trading a discount for some well worded testimony from a client, and once you have some, don't be shy about sprinkling them throughout your virtual assistant website. You can never have too much good press.
Opt-in / offer / CTA
Not to beat a dead horse, but you NEED to have a CTA easily accessible on every page. Again, you don't want to overpopulate every square inch of the page with buttons to click, but a potential client should not have to search too much to find one.
This is the whole focus of any virtual assistant's website — to get the visitor to sign up and sign on to whatever it is you're offering.
About page
Time to sing the praises about yourself. It can be extremely difficult for a lot of people to pat themselves on the back and write nice things about themselves, but that is exactly how you need to approach this section.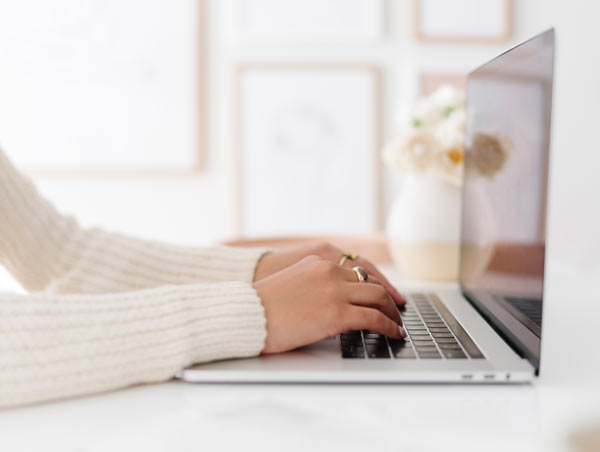 About page header
Just like on the home page, you'll break down the About Page into smaller chunks. As above, you'll want an attention grabbing header, followed by a more fleshed out story of yourself. The header should address what problems you can help a potential client solve; why it's your passion and why you chose virtual assisting. But all in a nutshell, again — we want the client to keep reading on and eventually click the CTA button.
About you
The "about you" section of your virtual assistant website gives you a chance to sell yourself as a person. If a client has made it this far down the page, they are looking for more information on you to see if you align with them personally and if you fit the image they are looking for. You don't want to get too personal, but sharing some personality is not a bad thing. Maybe you're an adventurer/traveler/mountain climber, or you volunteer with an animal shelter.
Keeping politics and religion out of your about section is essential (unless that's the business you're in). People will make snap judgments based on all kinds of things, so while it's good to share some about yourself, you don't necessarily want or need to share everything.
You'll want another professional photo of yourself that's different from the one in the hero section but still shows you on a computer or an image that is related to the work you perform. Remember to keep the photo within the size constraints to maintain site speed.
Testimonials (again)
Yes, again. You actually want to sprinkle your entire virtual assistant website with testimonials, even your about page. Like the CTA buttons, they shouldn't completely cover every square inch of your site, but they can judiciously be placed anywhere and everywhere to show how great you are and how they would be remiss in not hiring you.
Services page
Ideal client
You will list what services you offer here, but before we get too ahead of ourselves, this is also a space to explain who your ideal client is. As badly as you may want to be hired, you wouldn't want to be hired by someone whose expectations or values are completely misaligned with your own. Not everyone is a great fit, and that's okay.
Most virtual assistants work within a specific niche and seek to attract clients that fit that particular mold. It's key to try to speak directly to that group as much as possible and is totally acceptable to filter the others out.
Psychologically, viewers are drawn to groupings of three. This section can vary widely in what it lists, but keep them in concise groups of three wherever possible.
Services breakdown
What virtual assistant services are you going to offer? Here's where you can really detail exactly what services you'll offer and how you can specifically help clients.
Do you offer service packages? Detail them here. For example:
for social media management, you may have an entry-level package that offers nothing but weekly posts,
A mid-level package that includes some copywriting and post scheduling,
up to full content strategizing, multi-channel media aggregation and writing and photo services for the premium package.
If you offer your services a la carte, list them here. You can, but you don't need to publish your prices, and there are a lot of arguments both for and against the practice. A lot of business owners prefer to address the money after some initial contact, for example asking It's up to you how you want to proceed here.
In either case, post a CTA button close to each package or set of services. I cannot stress enough how important it is to make it easy for your audience to proceed to the next step of engagement on your virtual assistant website.
Final CTA
In a nutshell, reiterate what you offer and to whom. Keep it short and sweet; a distillation of everything you've just eloquently spoken to them about above.
I imagine you're tired of hearing about it but…YES, you want one more CTA at the very bottom of the page. While most CTAs on the page can be small buttons, this one can be a bit larger, and include language that directly asks the potential client to CLICK THE BUTTON!! It will save them so much time and money if they only let you help them!!
While there are no rules that are so set in stone that you can't flex and do what you want, much of the above is part of a formula that's been proven to psychologically keep the attention of the visitor and keep moving them to the next level of engagement. Sticking to this simple format will make building your virtual assistant website a snap. The bones of it are right there—all you have to do is fill in the blanks.
Contact Page
Remember how I keep mentioning CTAs? Guess where they lead? The contact page, most often. This is such a crucial part of the sales funnel of a virtual assistant website where you'll collect highly precious information like email addresses and phone numbers that hopefully turn a lead into a hired client. You want to make it as easy as possible for anyone to contact you.
It's also a way to build an email list for future offers, newsletters, etc, and is a spot where potential clients can hit you up with questions and comments. This is also the place where you can link to any social media platforms you might use for communication or information distribution.
Linktree
Linktree is a links app that you'll find all over websites and can be embedded in other apps, most notably Instagram. It's a way to neatly organize all of your preferred links in one spot without cluttering up your site with a dozen different CTAs clamoring for a visitor's attention.
Linktree is mobile optimized, so it always looks great no matter the phone. It's a great way to coordinate your links from your freebies and sales offers to affiliate links and relevant content.
It also serves as a great method of email address collection and a way for your potential clients to opt-in to your marketing, newsletters, etc.
Little details to make your virtual assistant website stand out
Favicon
Don't be that person. You know that little icon in your browser address bar when you look at websites on a computer? There should be a branded icon there that matches the business, yet many people never customize this and their sites show the default WordPress/Squarespace/Shopify/Wix logo. This looks unprofessional and shows a lack of attention to detail.
Mobile and Desktop Optimization
Many virtual assistant websites are built on laptops or desktops and aren't given much consideration as to how the site will look on mobile. Additionally, many self-built websites are only tested on the designer's phone, ignoring the fact that there are many other sizes out there. A well designed website should be tested on all popular device sizes and all major internet browsers to ensure that the site looks great for every viewer.
Quality Photographs
I can't tell you how many virtual assistant websites and online service providers I see that are all using the exact same stock photographs. While free stock sites like Unsplash and Pexels are great, too many people are using the exact same images in the same context. This can make your virtual assistant website look generic and less professional.
Even more critically, Google takes notice and will dock SEO points for commonly used images. We highly recommend using original images whenever possible. If you can't afford a professional photo shoot, try offering a trade of services within your network. Many amateur and professional photographers could probably benefit from some social media work, website edits, email organization, bookkeeping, etc.
Blog
While not absolutely not necessary on a simple virtual assistant business website, the benefits of a regularly updated blog must be mentioned. A blog that is updated regularly, whether it be weekly, monthly, or even bimonthly, helps keep your website alive. It shows visitors that your business is still active and that you regularly spend time to connect with your audience. Not only that, but it is the single most important thing you can do to improve SEO on your virtual assistant website.
If you don't want to be lost in the endless search engine sea of virtual assistants, publishing a regular blog on your site that answers questions your potential ideal clients may be asking is absolutely one of the most valuable things you can do.
Again–don't overthink it.
Write what you offer. Solve the problems you set out to solve when you thought up the business in the first place. In the end, you're not a robot, you're a human, writing to other humans. Just stay relatively within the bounds of what we've covered here and you'll do just fine.
Remember—people need solutions. You just need to help them find you.
Matthew Ogden is a Minneapolis-based copywriter and content writer and editor. He's written for national retailers and lobster roll companies alike. When not writing he can be found nose deep in a book, writing and performing music, or nerding out about guitar tone.