Using client survey questions up front saves both your and your client's time and money down the road
You've got your Virtual Assistant business all set up, and everything is in its right place. You've registered your LLC, your marketing machine is cranked up and in full swing, and you've just snagged your first client. That's amazing!
You take a business phone call with them and learn all about what they do and what they need from you. Excited for your new good fortune, you hang up the phone and then POOF–everything your client just said evaporates out of your brain. Riffling through your notes you can barely read your own chicken scratch. You realize there was a whole separate page of notes and questions you wanted to ask…
This is why we strongly recommend that you use some sort of client survey question form. Chances are you'll have that get-to-know-you phone call or video meeting anyways, but having a good series of questions set into an easily accessible form will be invaluable to you as you move forward with any client.
Client survey question forms allow you to ask all of those questions, but more importantly, lets you go back and review them any time you need to. No sketchy handwriting, no dog ate your homework–it's all there at the tips of your digital fingers.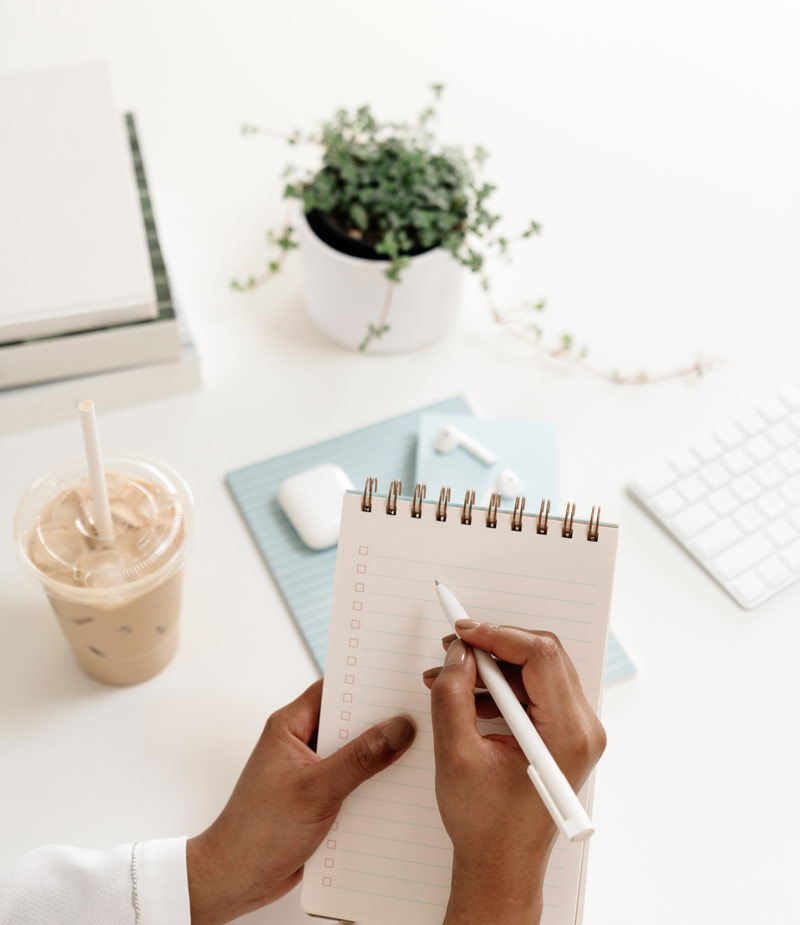 What should you ask?
Well…that depends on your business and your client.
We here at Virtualcopia have compiled a master list of questions to put to any number of different fields, included with a Virtualcopia Business Collective membership. Essentially, any question you'd ask in person or on the phone–put it in the client survey questions.
Form Options
There is a whole slew of options out there, but we've distilled it down to the best three:
Google Forms is the obvious place to start with a client questionnaire. If you're a small business just starting out and funds are limited, it's a free and extremely simple option that's part of the Google Workspace set. It's ridiculously easy for you to build and for a client to use.
You can make it as long or as short as you want, and answers can be short or long essay form or even multiple choice. It integrates seamlessly with the other Google Workspace apps, making it a snap to drop data right into Sheets for analysis.
The downsides are in the limitations that make it so simple–you can't customize the look much or easily brand it unless you move up to the paid versions, and you basically have to build it from scratch. But it's hard to argue with the entry level price.
Jotform might be the best of the bunch, but at $24/month (and that's still with their branding on every form), can be cost prohibitive for someone just starting out.
It has literally thousands of templates to choose from and is infinitely customizable. You can integrate payments, collect signatures, and tons more.
Formstack is the only one that offers specifically HIPPA and GDPR compliant forms, which is a must for many businesses. Powerful and customizable, Formstack is great for anyone in a regulated business.
SO…are client questionnaires worth it?
Absolutely. You can save yourself so much effort by simply generating a thorough form to collect and have on file all details about your client–their company info, their vision, their current social media accounts, how they prefer to communicate, who your main contacts will be, etc.
You have on paper the initial desires and requests of the client. These may evolve over time, but it's a great starting point, and a great basis for creating a proposal and even upselling your services depending on their vision.
Matthew Ogden is a Minneapolis-based copywriter and content writer and editor. He's written for national retailers and lobster roll companies alike. When not writing he can be found nose deep in a book, writing and performing music, or nerding out about guitar tone.