Choose wisely: we break down the 10 best digital bank accounts for your small business and why you should care
In this article we'll cover:
So you've started your own small business and now find yourself with customers and clients wanting to give you money. Good for you! Now where do you put it? With more and more payments being electronic and thousands of different avenues to deliver and receive these payments, what do you do? A lot of digital banks have popped up in the last couple of years offering all kinds of options and benefits. The key is to find which ones most directly match your small business needs. We'll focus here on the top ten digital banks and what they have to offer.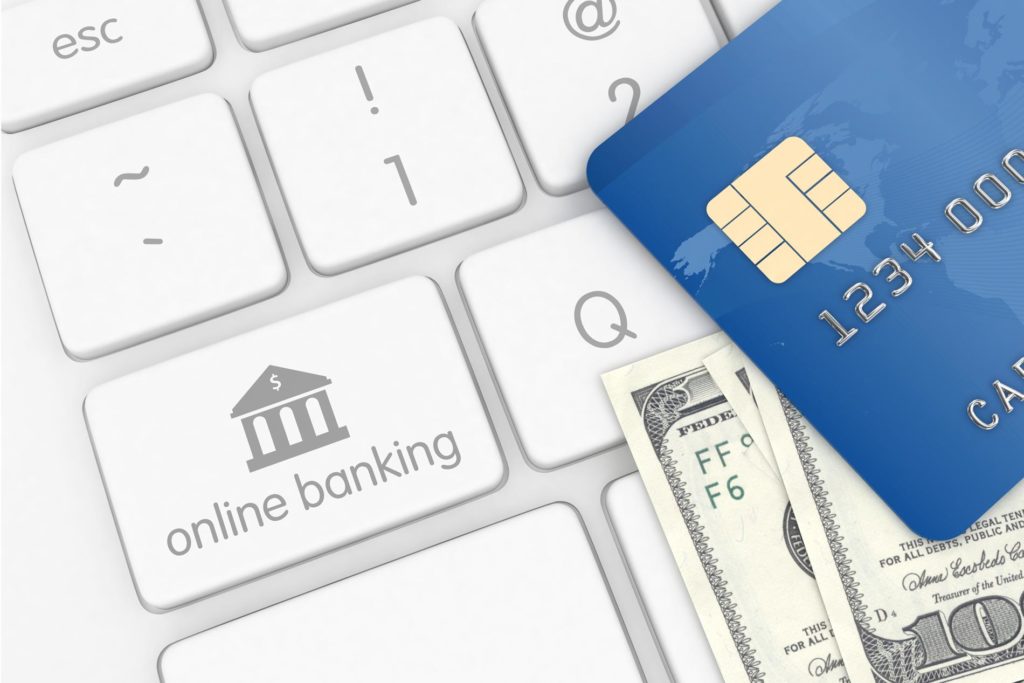 Overall digital bank pros:
Typically better interest rates on savings and checking accounts, meaning you make more money without having to lift a finger
More powerful tools

Many digital banks offer some sort of built-in invoicing for your clients, making it much quicker and easier to get paid
Greater control over account access
You can give account access to your partners or team, and then set permissions for them so they can only access what you want or need them to.

International currency handling

Inexpensive transfer fees in most cases
Simple to do
Overall digital bank cons:
Minimal cash handling ability

Most of the banks listed either won't let you deposit cash at all, or charge a hefty fee to do it. If you do a lot of cash handling, a traditional bank is probably still a better fit at this point.

Certain businesses are excluded

This is true of traditional banks as well, but if you found yourself here because regular banks were unable or unwilling to work with you, the same mostly applies here: no Gambling, Cannabis, or Adult businesses are eligible.

Lack or reduced customer support

Many of the companies reviewed here have only email support over weekends, for example. If you need instant feedback on some issues it seems that you're not always able to receive it. This is a theme you'll run into frequently with digital banking and is why many businesses prefer to spend the extra money for a traditional bank.
*Note–the banks I review here fall into a couple of categories. Some only work with Sole Proprietorships, some with LLC/LLP/INCs, and some with both. We'll break them down in each category but some will be automatically excluded from your search based on what type of business you operate.
Universal Banks
These banks all accept all business types: Sole Proprietorships as well as LP/LLC/LLP/INC/S-Corp's:
If your idea of a perfect life is working from a sunny beach in Bali, this London-based digital bank should rank high on your list. Many of its features are designed with international business in mind.
With a Revolut account, you can hold, receive and exchange currency from 30+ countries with no hidden fees. You can create sub-accounts for each currency to keep everything straight.
The first ten overseas transfers are free, with minimal fees after that.
This digital business bank account allows you to set recurring payments or scheduled payments so you can just set it and forget it for those weekly/monthly/yearly bills.
And just so you don't actually forget all those bills, you can sync your account up with Xero or just export everything to a CSV file to import into your own accounting spreadsheet.
You can get cash at 55,000 domestic in-network ATMs, with no additional fees beyond what the ATM provider charges (up to $1200/day out of network) so you're likely to find somewhere to get cash should you need it.
Revolut offers a debit card that automatically works internationally–no need to worry about being declined just because you're overseas.
You can also get debit cards for your staff and then set each one's spending limit to help give you control of your business spending
Revolut is one of the very few digital banks that deal with cryptocurrency at all, although that's so far only through their personal banking. With the way crypto is growing, we'll likely see more and more of that as an option.
Revolut's customer support is very limited–they work via email only and have no phone or chat support.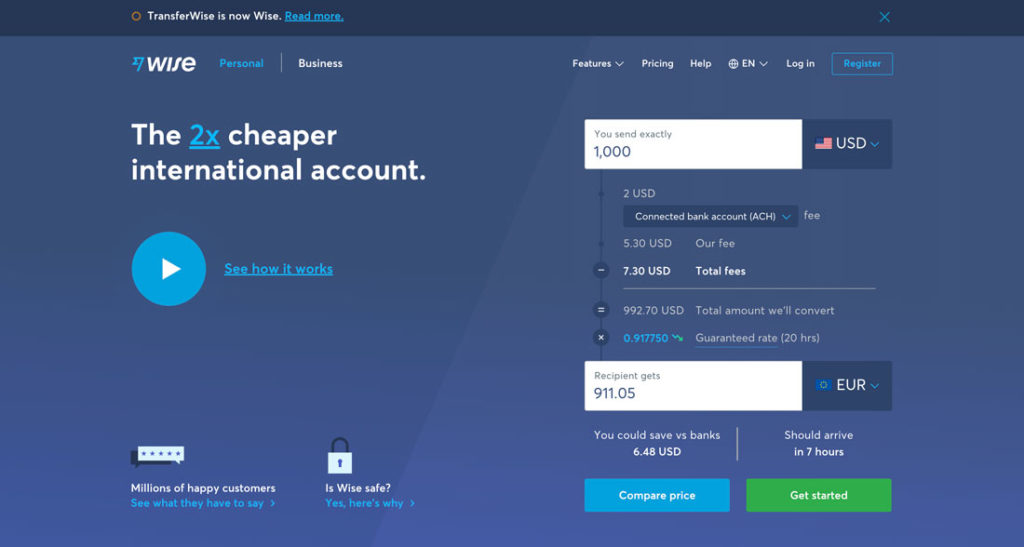 Another London-based bank, Wise is also well suited for anyone who expects to do business internationally–it's packed with features that make it easy. Formerly named TransferWise, it has been a trusted institution for over a decade. The two things that set Wise apart from other digital banks: they are the most transparent about their fees, and their fees and exchange rates are some of the lowest out there.
Many banks attach little fees here and there, and you really have to get into the fine print to see where it's all going. Not so with Wise. Everything is up-front and crystal clear.
Wise has some of the lowest fees and exchange rates out there.
It recognizes currencies from 56+ countries, and the fees are in the .3-.9% range.
All of this is calculated out for you in real-time so you don't get sticker shock down the road when you look at your statement.
They offer free built-in invoicing that makes it easy to bill customers and helps you stay on top of your cash flow.
You can give your staff access to your account with permission sets, giving them as much or as little access as you want.
One odd wrinkle is that if your business is registered in the U.S, you can't get a debit card for that Wise business account. While shifting money in and out of your business account is a breeze, that is something to consider if you want a debit card directly linked to it.
There is a support telephone number, although the hours are only Monday-Friday, 10am-3pm EST. There is also a chat you can reach from 9am-7pm EST, although when I tried to get through it said they were too busy, perhaps I could email them…which I didn't love. However, they are very responsive via social media and will hop in and answer questions pretty quickly on those platforms.
*Update: 2/4/2023: At the time this piece was originally written, Kabbage was a great option for several reasons. So much so that your esteemed author opened his own business account with them. However, as of October 2022, Kabbage filed for Chapter 11 bankruptcy and was acquired by American Express.
After a few frustrating minutes of trying to get access to my account, I finally got in and am seeking a new digital bank. Expect a full re-write of this article soon with all the essential updates.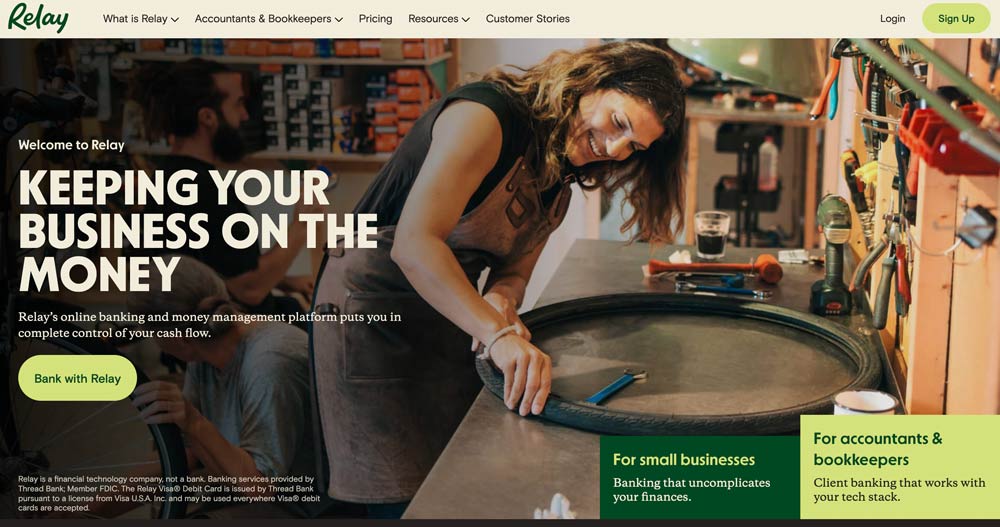 Relay has two levels of membership for business bank accounts. The first is free, and offers you a lot of the features standard to most of these banks: no fee accounts, automatic bill pay, multiple users with customizable permission sets.
One of the coolest free features Relay Financial offers is a direct feed from your accounts to Xero or QuickBooks, giving you real-time accounting updates automatically. 
The second level is $30 per month and adds on some neat features like unlimited domestic and international wires, same day ACH transfers, batch bill payment, and some more elaborate controls over your workflow.
If your business is in its early stages and you're trying to keep costs down, you can likely get away with the free membership, though again, depending on what type of business you have, the fees or monthly charge for the upgraded account can eat up your profits quickly.
Customer service support is limited to email and FAQs only.
Novo has most of the features the rest do, but they have one in particular that I find extremely helpful.
You can create up to five "reserve" accounts that set aside money for whatever you want. For example–one can be set for your taxes, one for bonuses, one for utilities, etc. You can direct money to these reserve accounts in single transactions or automatically allocate amounts on a regular basis. There are so many times over the years I have wished for this exact feature. It's such an easy way to organize and save your money.
While they don't pay any interest on savings or checking accounts, they don't charge for them either. Also no minimums, no monthly charges, or early account closing fees. About the only thing they may charge you is a non-sufficient funds charge of $27, and an "uncollected funds" charge of the same. This means that if your client pays you with a check and their check bounces you pay $27 for it. This is one more reason why so few people take checks these days, and why so many businesses prefer to take payment electronically.
All ATM fees, domestic or international, are refunded monthly by Novo, which is awesome. Nothing worse than having to grit your teeth and eat that $4 ATM fee because you ran out of cash at the ballgame. Or the mall. Or Thailand. And your physical and virtual debit card will work overseas without having to call anyone or change settings.
There are a fair amount of limits in place, like a maximum check deposit total of $40,000 per month, but if you're hitting that on a regular basis, you may have graduated from a small business to the next level, and that's a fantastic problem to have. Additionally, they are flexible and willing to adjust most limits to work with your business.
Invoicing is a feature here again, with email alerts whenever you get paid (which I find deliciously addictive). Ding! Money in the bank, literally.
Novo seems primarily focused on domestic business, though their international options are there, just not to the extent of Wise or Revolut. They actually use Wise for their international transfers.
Customer service is via email chat, or a phone number (for members only) Monday-Friday, 9am-6pm EST
I feel like I would be remiss to not at least mention PayPal as an option, since it's so ubiquitous and widespread, although the negatives outweigh the positives for everyday business use.
At the time of writing this, 191 countries have at least some dealings with PayPal.
PayPal pays no interest on their accounts, and their fees are exceedingly high–over three percent plus a fixed fee on almost everything, and are attached to just about every transaction you make.
Since they've been so closely related to eBay from the get-go, it's no surprise that two of their touted benefits are shipping label discounts and dispute management.
But the biggest benefit might be how they integrate with just about every sales platform on the planet.
But again, the only reason I would even consider PayPal as a business account option would be their planet-wide recognition.
BlueVine's biggest benefit might be the interest rate on their checking account. Most checking accounts offer zero interest, yet BlueVine boasts 1.2%. There are some caveats though: you need to spend at least $500 per month on their Mastercard Debit card OR deposit a monthly minimum of $2500 into your account. That's asking a lot for some small startups, so whether or not you can realize that benefit will vary. Though if you can hit either of those markers, 1.2% is pretty good.
It costs you nothing to set up an account, and there are no monthly fees or minimum balance requirements.
There are no overdraft fees for non-sufficient funds because they won't let you take out more than you have in your account at any time. This can be great for someone who isn't on top of their finances to avoid overdraft charges, but can be a problem for auto-paid bills since it won't send the money if it's not there.
Bluevine also offers a line of credit option. It's like a loan that you've already been pre-approved for should you ever need it, and you can easily just drop that money into your account. HOWEVER–interest will accrue on what you owe, so it's not fiscally ideal to do that if you can avoid it. Additionally, the approval requires at least $10,000 worth of business per month, a personal credit score of 600+, and only applies to LLCs and Corporations.
A debit card is included and usable at 37,000+ ATMs nationwide, fee-free. You can use them out of network too for whatever the ATM's issuer asks.
BlueVine partners with Green Dot bank which allows you to deposit cash at 90,000+ domestic locations for a $4.95 fee per deposit, which is steep if your business handles a lot of cash.
While you get unlimited free incoming domestic wires ($15 apiece for outgoing), they do not allow international wires. If a lot of your business requires international wires, BlueVine may not be the best choice for you.
Their customer service allows you to talk to a real human, Monday-Friday, 8am-8pm EST, and of course the usual email option.
Sole Proprietorships Only: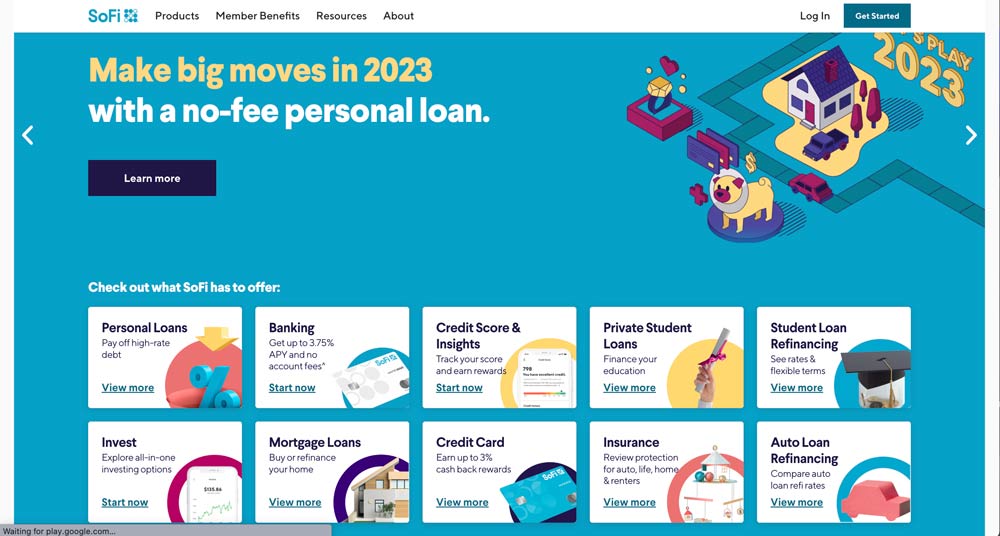 Sofi (*SEE UPDATE)
*Sofi no longer offers business banking accounts, though as a sole proprietor you could technically use their personal account, as long as you use it exclusively for business and don't mix it with your personal finances, and the educational resources are still pertinent and really, really helpful to a new freelancer.
Sofi's banking is just one small sliver of what they do. They were formed in 2011 with the goal of creating more affordable ways to fund education, so naturally, they offer school loans, but also home and auto loans and refinancing, investments, a credit card, insurance, and of course a digital business banking account. Some of my favorite benefits are missing here, like built-in invoicing, but there are all kinds of custom features that make Sofi stand out.
Like Novo, you can set up separate savings accounts that you can send money to (up to 20 accounts).
You earn "points" for good banking behavior. For example, simply logging on to their app and checking your status on a daily basis will get you some points, and those points are redeemable as cash or stocks. The points accumulate very slowly, and we might be talking about a couple of dollars per year, but that's free money any way you slice it.
Sofi is also one of the few to offer returns on a checking or savings account with a big if–IF you have regular recurring monthly deposits of $500+, you'll get 1% interest. However, only up to the first $50,000. After that the interest you will accrue drops to .05%
One of the more interesting features is free one-on-one career counseling, from networking and resume help to branding and promotion plans and advice.
Overdraft protection is free, but only if you have a recurring monthly deposit of $1000, and they only cover up to $50, which is hardly anything to write home about.
In one of the more unusual benefits offered by any digital bank, since Sofi sponsors the Los Angeles Rams' and Chargers' stadium, bank members are granted access to express lines, cash back on concessions, and even access to an in-stadium lounge.
Customer support is excellent, with phone availability Monday-Thursday 8am-10pm EST, 8am-8pm Friday-Sunday EST. and the usual email
Charles Schwab gets a look here even though it is fairly similar to a lot of your more traditional banks and not real feature-heavy. It gets a nod because the name itself is widely recognized and respected. While there are new digital banking solutions that may offer you more incentives, every once in a while they go belly-up, like AZLO. They were FDIC insured, so you would have gotten your money back (up to $250,000, anyways), but you would have had to start from scratch, bank-wise.
A lot of travelers like Charles Schwab due to their low international exchange rates, which are some of the best.
Perhaps Charles Schwab's largest asset is its dominance in the field of finance and name recognition. Faith in the institution, essentially.
Customer service is available via telephone Monday-Friday 7am-11pm EST, Saturday-Sunday 9am-10:30pm EST. Email/chat support is available 24/7
LP/LLC/LLP/INC/S-Corp's Only:
Mercury sits somewhere in the middle of all these banks, as sort of a happy medium. They don't have the cheapest currency exchange rates, but they're still pretty decent. They have good customer service options and all kinds of free features.
If your business is transactionally cash-heavy, Mercury is not for you, since there is no cash deposit option at all.
You must be a U.S registered company, provide a federal EIN, your company's formation documents, and a picture of your government ID just to open an account. Seems perfectly reasonable but many banks don't require all of that.
They offer unlimited free domestic wire transfers, and free USD international transfers, with a fixed 1% fee on currency exchanges.
They offer both business checking and savings accounts, and you can get physical or virtual debit cards if you wish. Mercury has the feel of a traditional bank with a real focus on small business growth, giving you access to many tools to help you along.
You can grant access to your team with custom permission sets–as much or as little as you want them to have.
Their app is simple and fast.
Mercury has an API integration with basically every US payment stream–Stripe, Square, Shopify, Paypal, and more, which simply makes it easier to receive money…which is kind of a key point of your business, no?
Customer support is a little light, offering only an email address, not phone or chat options.
The Best of the Banking Best:
If your small business does a lot of international business, Wise makes the most sense. Their international wiring and currency exchange rates along with the overall fee transparency makes it a solid choice, so long as you don't need a business debit card.
If most of your business is done in the U.S, I would look to Novo. The reserve accounts, invoicing and low overall fees make it a great option.
If you find yourself dealing with a lot of cash, your best bet of the above might be BlueVine, although as stated above, there's a fairly hefty fee to deposit it. If you end up handling a lot of cash, it may make some sense to find yourself a local brick and mortar bank or credit union.
Finally…
Hopefully, this article helped you sift through some of the banks that are out there and gave you some good ideas. The tools are out there to make your life easier and to take your business to the next level. Any bank on this list could be the right one for you, depending on what your own individual business banking needs are. However, like anything this important–please dig in and do your own research as well. While we touched on some of the main differences, each and every business is uniquely different, and no one knows your business better than you.
Matthew Ogden is a Minneapolis-based copywriter and content writer and editor. He's written for national retailers and lobster roll companies alike. When not writing he can be found nose deep in a book, writing and performing music, or nerding out about guitar tone.