Using Canva is a great way to produce professional-looking invoices that are functional and on-brand. There are templates galore and the interface is straightforward and easy to use. Best of all, an entry-level membership costs you nothing but your email address
If you aren't already aware of Canva, you should be. It's a comprehensive visual content site where you can create all sorts of different things, from logos and resumes to wedding invites and brochures.
It has a ridiculous amount of templates that are free for anyone to use, and while they have multiple levels of paid platforms, for a freelancer who's just starting out the free one will do just fine. While there are infinite things you can do with Canva, this article will just focus on using it for invoices. We'll also describe very specifically a couple of key things that you should have on any invoice to make it easy for a client to pay you and to streamline your process:
How to add a PayPal or a Stripe button that allows clients to pay you directly via your emailed invoices
How to publish the Canva doc invoice as a PDF that still maintains clickable buttons
How to "share" it with yourself as a template so you don't have to repeatedly erase old numbers and client information, etc.
Get signed up, login, and start creating
The first thing you need to do is sign up for a free account using an email account. After that, you just login and get to work.
Choose your template
One of the very first things you'll see once you're logged into Canva is an "All templates" tab in the upper left corner. Click on that and you're in the templates section. Enter "invoice" into the search bar, and voilá–literally thousands of invoice templates pop up for your perusal (4,578 at the time of this writing).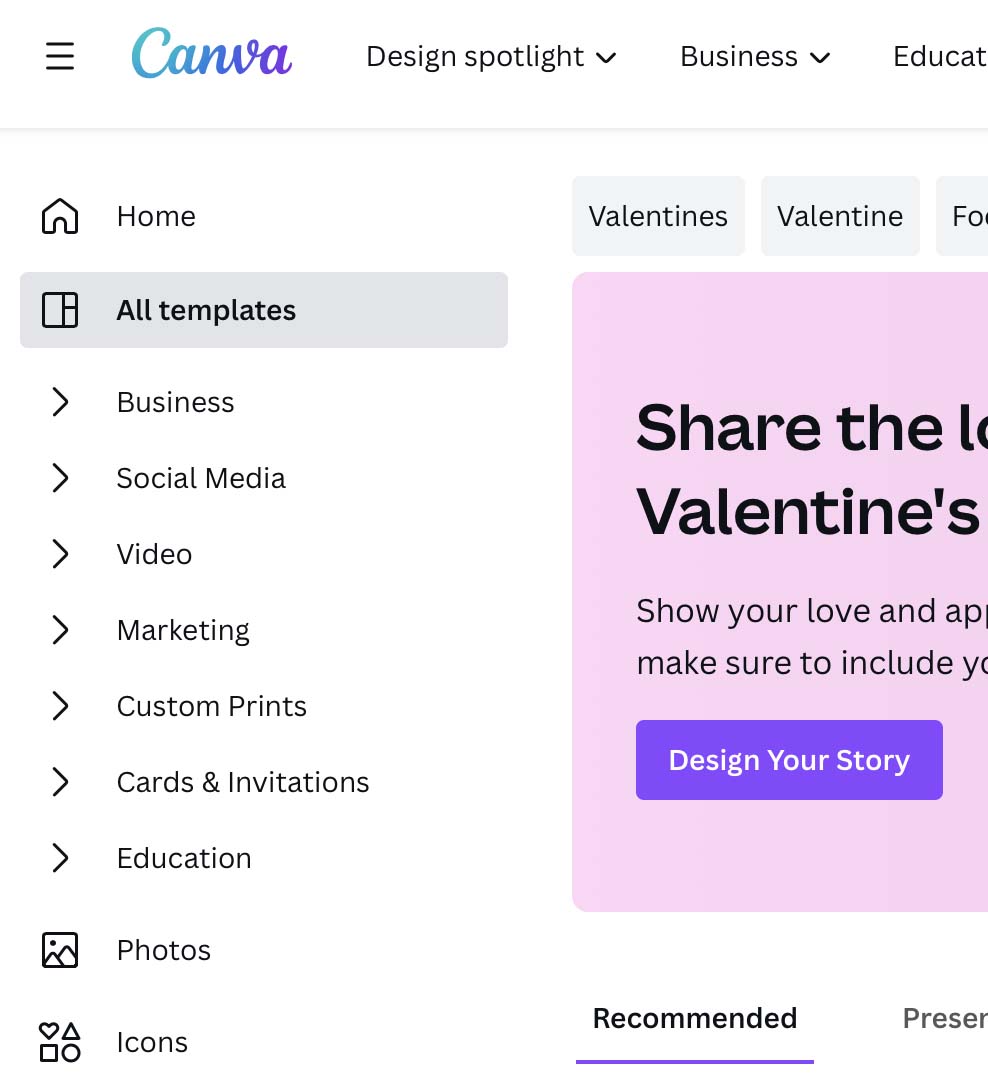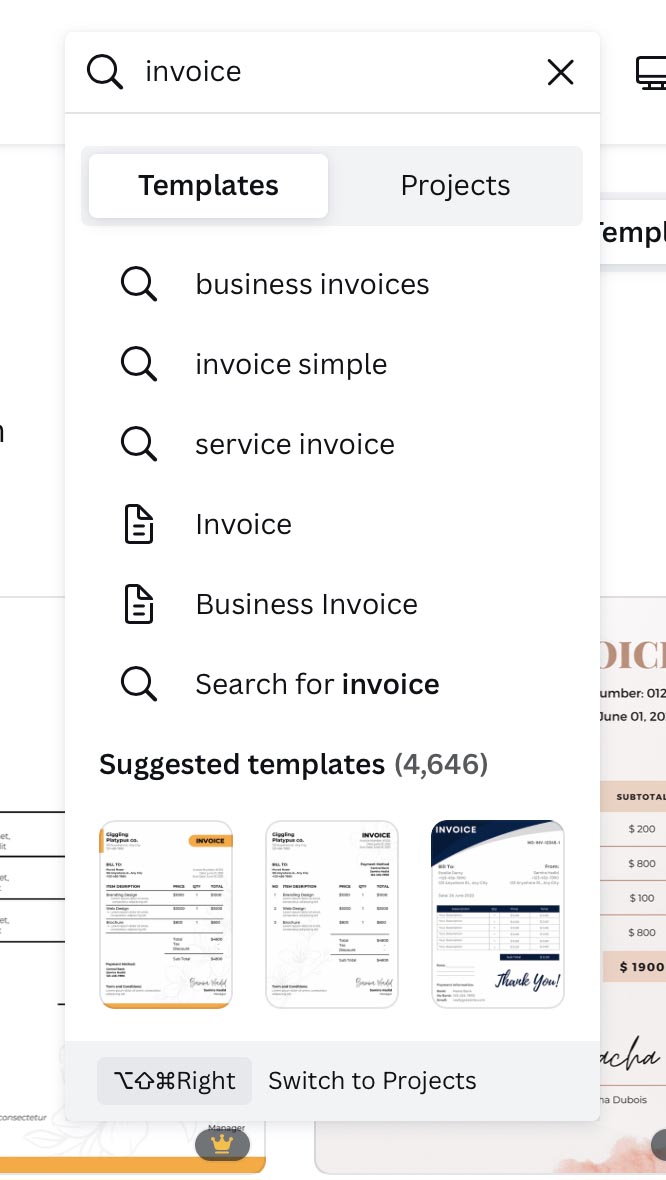 (**NOTE—not all templates are free. Look for a tiny symbol in the lower right corner of each template icon for a gold crown or a dollar sign. These are paid only or require a premium membership and cannot be downloaded or used without paying or having the "Created with Canva" prominently stamped on your invoice, which looks super tacky.)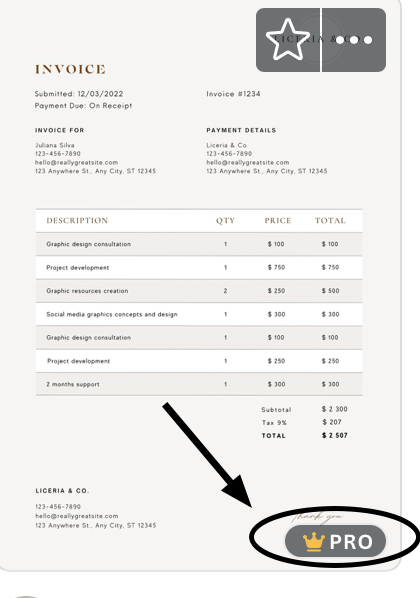 Scroll through, choose the Canva invoice template you like, and get ready to start customizing.
(**NOTE—if you have the time and the notion, you can certainly create an invoice completely from scratch if you want, although for the sake of simplicity and ease, we'll stick to templates in this article.)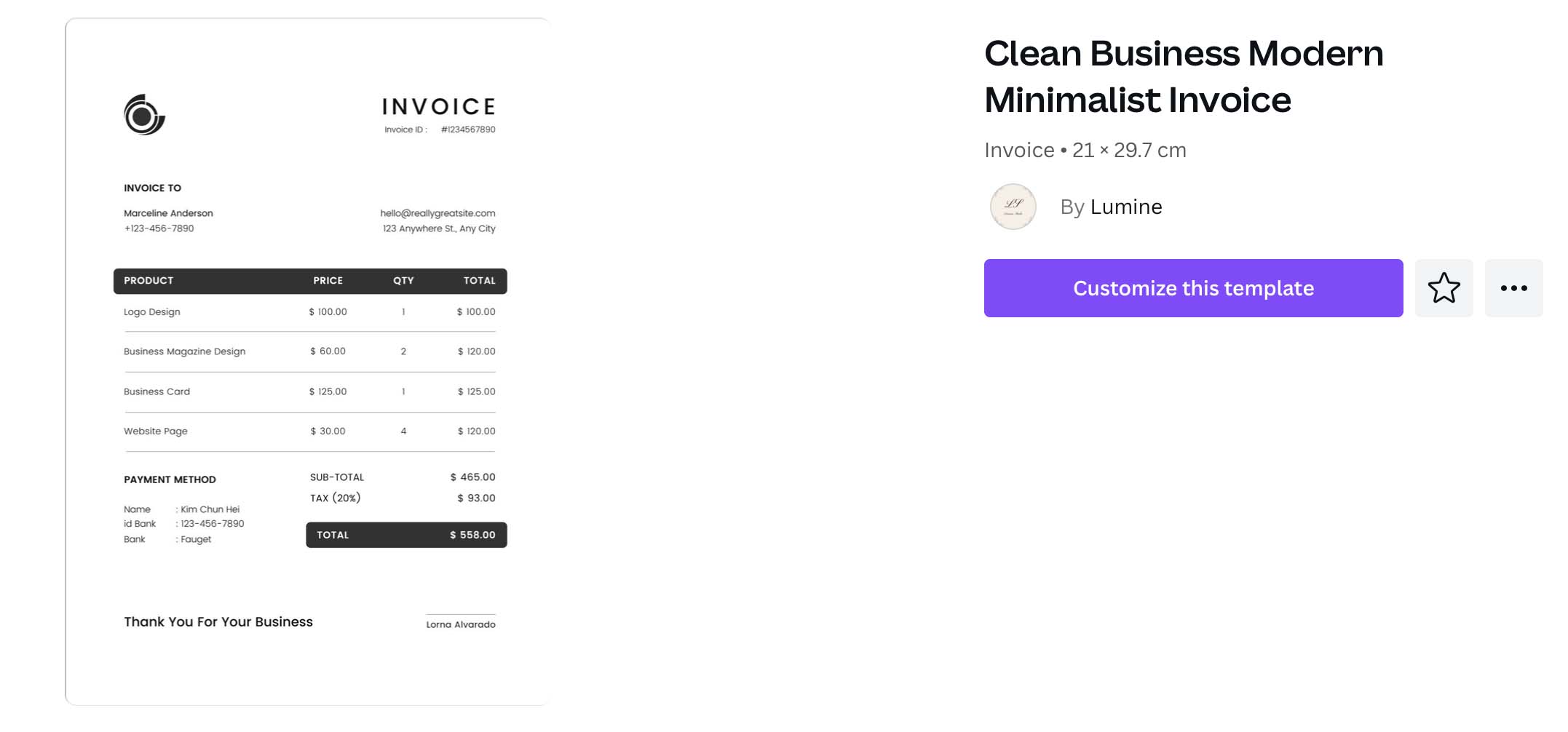 Editing your template
Once you've selected your template and clicked on the "Customize this template" button, you'll notice as you hover your mouse over different parts of the invoice, it will light up different boxes containing text or graphics. Each of these you can move, delete, or customize. Hover over the one you want to adjust, click once on it to select it, click again to edit as you would within any text program like Microsoft Word or Google Docs. Be careful not to click and hold or drag, as that will move the box around, unless that's your desire

(hot tip: if you make a mistake in Canva, press command+Z [control+Z on a PC] to undo recent steps just like other programs).
Fill in all and any pertinent information you want, delete whatever you don't. That's it. You can add all kinds of graphics and animation, but our suggestion is to keep that sort of thing to a minimum, as much of that comes off as unprofessional and many of those elements require purchases or Canva member subscription.
Check your work!!
One big mention is that Canva is strictly a graphic design app, and the templates will not calculate numbers like a spreadsheet, so double and triple check your work to make sure you get your math right when you create your invoice to avoid client confusion.
Adding a PayPal or Stripe link to your Invoices
Canva allows you to easily place a clickable link into your invoices that send a client directly to your Paypal or Stripe account to make their payments. You need to go to either one's website and create a payment link first if you don't already have one, but both make it fairly easy:
Once that is done, you head back to your Canva invoice to insert it. You could simply plop the link on the page, but that looks less professional and doesn't stand out as easily as a button, so let's walk through that together.
Button graphic
On the left-hand side of the creation screen, there's a number of tabs (templates, elements, uploads, text, etc).
Click on the one marked "elements." You'll see several lines and shapes pop up. Choose whichever you like, though the first two (square, and square with rounded corners) are kind of perfect.
Click on whichever you like and it plops one right in the middle of your design.
Click and hold anywhere on the shape and you can drag it wherever you want to place it on your invoice.
At each corner of the shape you'll see a circle—click and hold the circle and drag it to change the shape and size of your button.
At the top of the screen are additional options. Color is kind of a big one, since you want your button to be easily seen and the text within it highly contrasting. Black with white text is a classic, but feel free to choose whatever you want, as long as it's easy to read.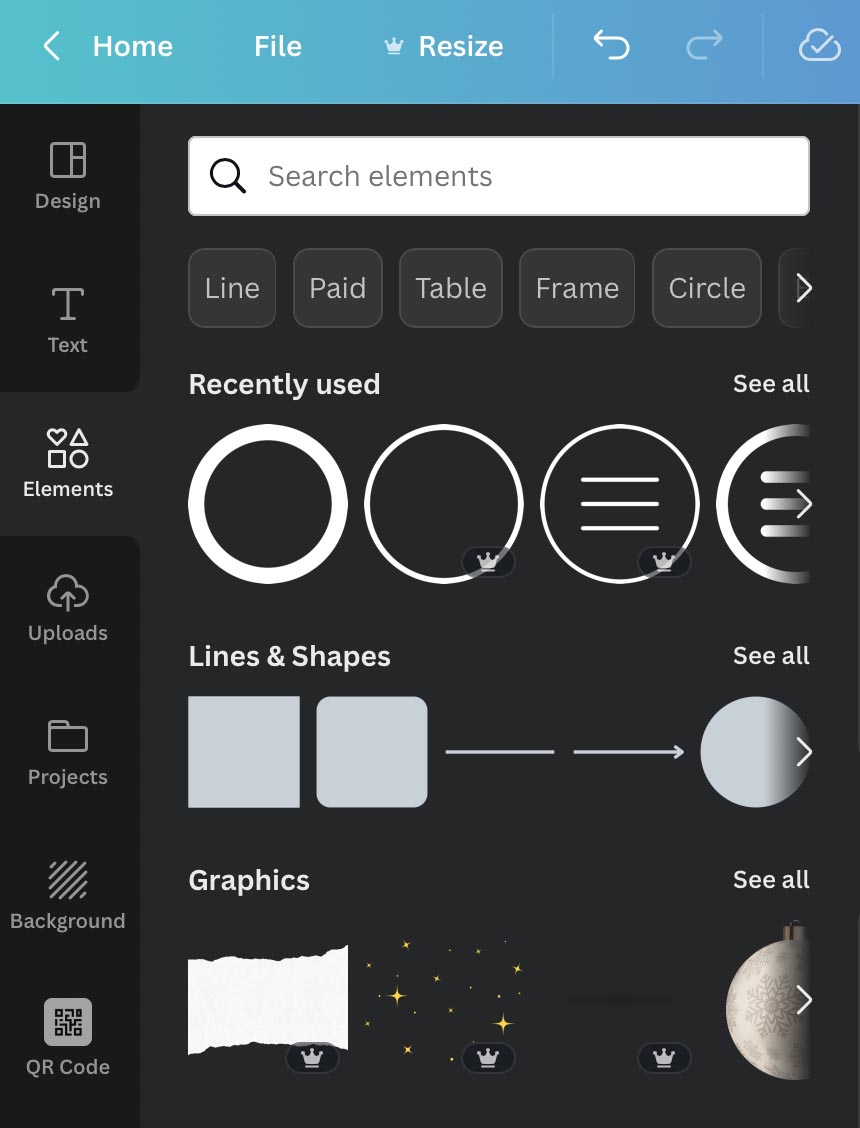 Again, on the left-hand side of the screen, click on the "text" tab.
Choose "add a little bit of body text." This will drop a text box onto your invoice.
Drag and adjust the box the same way as you did the shape so the text box is positioned on top and within the bounds of the shape.
At the top of the creation screen, you'll see some options, one being an "A" with some colors under it. This is your text color select. Click on it and change your color to whatever color you want, again being sure to use one that contrasts with the shape.
Click on the text box to edit the text and write in whatever you want ("Click here to pay," "PayPal," "Stripe" or whatever you want).
Adding the clickable link
At the top of the editing screen to the far right, you'll see three dots. Click on it to open up more options.
Click on the chain link icon and that opens up your hyperlink option.
Copy your Paypal or Stripe link and paste it in the hyperlink box and click "Done."

That's it. Now that you've got your Canva invoice designed and your payment link button inserted, let's create a template link so that you can reuse your fancy new template without having to erase an old client's info before inserting the new.
Creating a template link
Above the editing portion of the screen, in the topmost right side of your browser window you'll see the "Share" button. Click on it.
Again, you'll see a ton of useful options, but head to the bottom where you'll see the "More" option. Click on it.
Guess what? More options. Select "Template link" and it gives you a link you can copy and paste wherever you're keeping your own business assets or tools, and that's all there is to it. Now when you click that link it will take you directly to your basic template where all you need to do is fill out the pertinent information.
Canva is an extremely powerful resource for any beginning (and not so beginning) freelancer. There is so much more you can do above and beyond invoices, but hopefully this article shed some light on how to create a professional invoice you can be proud of.
Matthew Ogden is a Minneapolis-based copywriter and content writer and editor. He's written for national retailers and lobster roll companies alike. When not writing he can be found nose deep in a book, writing and performing music, or nerding out about guitar tone.