Stripe makes creating an invoice and receiving payments so ridiculously easy that it almost makes you forget about the 3+% fees they charge to use their system. Well, almost…
One of the best invoicing features Stripe has is the ability to set up recurring client payments, as you would need if you're being paid on retainer. You just set it and forget it. However it won't send recurring invoices without subscribing to Stripe Billing, an add-on service. If your client is super old-school and demands an invoice every time, you'll have to make a fresh one every time, though as you'll see, after the first one it is really quite quick and simple.
There is a way to create recurring payments via a payment link, though it won't send an invoice each time. If your client doesn't care about receiving a hard copy invoice each month, the payment link will work fine. Scroll to the bottom of this article to find out how.
We'll start by covering how to create an invoice step-by-step using the Stripe interface. Before anything you'll need to sign up for Stripe (if you aren't already) and link your business bank account. Once that's done, you can add your branding colors and images so the invoices you send will look like your business rather than something coming straight from Stripe.
With those tasks complete, it's time to make your invoice.
Log into your account and select the "Billing" tab in the top left corner
Of the options that open up below it, choose "Invoices"
In the top right corner, click on the "Create an invoice" button
The next screen defaults you to the "Customer" slot at the top. Enter in the appropriate customer information such as email, phone, business address, etc. (see our article on what needs to be included on an invoice). It conveniently remembers past customers which makes it easy to just scroll through your list and select them in the future
The next category is "Items." You can make a one-time item for a product or project or you can create an item you'll use over and over, say your hourly rate for services times the quantity of hours and Stripe will save it here for use later
The next section is "Payment Collection." You can choose a due date here, mange what payment types you'll accept or, if you have a payment methos for the client on file, select "Autocharge customer"
The next slot is "Delivery," where you can choose between emailing the customer or downloading a PDF.
Below that is "Additional options." The "Memo" and "Footer" sections both allow you to add some notes to the client, and "Custom fields" lets you add as many more of these types of sections as you wish.

You might by now have noticed on the lower right side of the screen an invoice being generated simultaneously as you build it. Just above that are the preview options where you can see how it will look to the customer as an email or PDF, and how it will look when they click through to the payment page.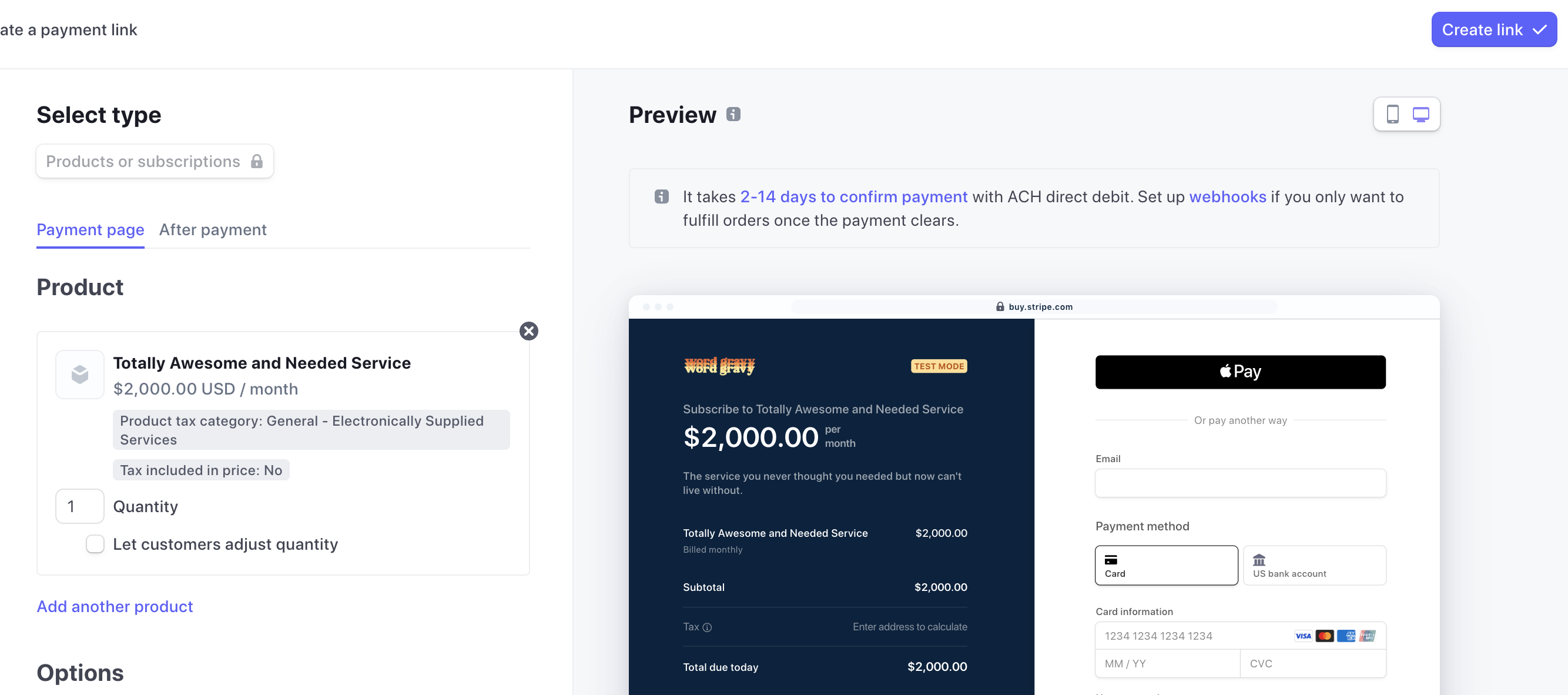 Creating a recurring payment link
To make a recurring payment link, we need to create a "product," even if it's not a physical item, like billing for hours worked or website maintenance, etc. I know that sounds kind of odd but hang with me through this.
For this part, go back to your Stripe Dashboard (essentially the homepage) and from the menu at the top of the screen click on "Products."
Once in the product screen, click on the blue button in the top right corner labeled "+Add product"
On the screen that is opened up, there's several fields to fill in, "Name" being the first. You may want to put something like "Billable hours worked" or "Copywriting services" or whatever goods or services you provide
Next is the description of whatever the client is paying for where you can go into greater detail if you choose
You can upload a picture to accompany it if you want. While it might be handy for hardware sales or design items, it's unnecessary for most VA services
Below that you'll see "Price." This is where you set the recurring fee, be it monthly/weekly/daily, etc
Just below that is the billing cycle options. Set it to whatever you want
Scroll back to the top and hit the "Save" button in the top right corner
On the new screen that opens up, under the "Pricing" section about halfway down you'll see a "+ Create payment link" button. Click that button and it will open up a preview of the recurring payment "product" you've just created. If everything looks good, click on the "Create link √" button in the top right corner of that screen
On the screen that opens up, there's your link. You can copy it and just pop it into an email to a client. You could also convert it into a QR code if you prefer. (**NOTE—The Stripe product default payment method is credit card. If you want to add ACH transfers which cost a lot less in fees, you need to take one more step)

Turning on ACH transfers in a Stripe payment link
ACH transfers are money transfers directly from a bank account. They typically incur much lower fees than credit cards charge. Stripe defaults to credit cards, but does give you the option of offering them to your clients. To activate this option:
On the link page for the link you just created, scroll down about halfway to the "Payment methods" section. Click the "Manage" button to the right of it
What opens up below is a long list of different payment options. Choose whichever you want, but the big ones in the U.S. will be ACH, Apple pay, Google pay, and credit card. If you have international customers you'll find many options they may prefer as well.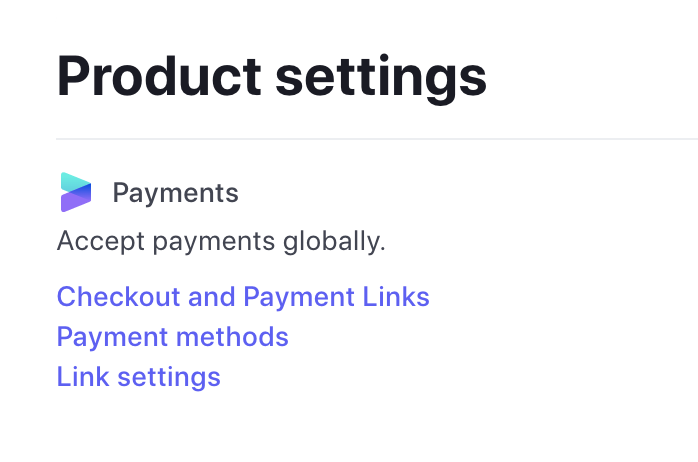 You can also manage payment options from the main setting page under "Payment methods."
Once this is all done and you've sent the link to a client, when they open it up there's a spot for them to enter their credit card information or connect to their bank account.
It's so simple to do all around, it almost makes it worth the cut that Stripe takes doesn't it? As we've already said above…almost.
Matthew Ogden is a Minneapolis-based copywriter and content writer and editor. He's written for national retailers and lobster roll companies alike. When not writing he can be found nose deep in a book, writing and performing music, or nerding out about guitar tone.