Tips to set you up for success when starting a virtual assistant business
One of the greatest things about being self-employed is that you have the right to choose your clients and set boundaries to create a working environment that will create balance in your life and allow you to professionally thrive. The best way to self-protect is to establish strong boundaries from the beginning of your working relationship with every client. Remember, you dictate how you operate/conduct your business. When starting a virtual assistant business it is so important to set your boundaries right away.
In the beginning, we are all quite eager to attract and keep clients and often find ourselves trying to go the extra mile without recognition or compensation. This can be damaging in a number of ways. First, and most importantly, you should be looking out for your own physical and mental well-being. There are only so many hours in a day and they should not all be taken up by work. If you aren't taking adequate time for yourself to rest and recharge in ways that relax and inspire you, you are destined for burnout. There is a reason we became self-employed, right? While you want to exceed the expectations of your clients and have healthy long-term working relationships, you don't need to do anything that doesn't feel authentic to you. If your clients begin to treat you like an employee and you no longer feel empowered as a contracted service provider and business owner, remind them of the boundaries you have set, or move the f*ck on.
In addition to setting boundaries in working hours and communication, it is highly advisable to include a termination clause in your contracts. If you no longer feel like a client is the right fit for you or it's just time to move on, a termination clause in your contract will allow you to break free without any hard feelings.
Please read and internalize this guide to setting professional boundaries as a virtual assistant or self-employed service provider.
By setting strong boundaries with your clients from the beginning of your working relationship, you are basically coaching your clients to work within your self-designed professional framework and teaching them how to treat you.
When do you want to work?
You can and should set your office hours. Even if you plan to work past these hours, this will help you limit your excessively demanding clients and manage expectations. Do you plan on only working three days a week? If you can, do it! You deserve it. Maybe you plan to work half-days every Wednesday so you can take a class, coach little league, or float down a lazy river. This is part of the reason you are starting a virtual assistant business, right?
While you may need to compromise on your dream schedule a little bit to make it fit with your clients' schedules, it is important to define your schedule ahead of time and be consistent with it. This includes noting in your onboarding and contracts any holiday(s) where you plan to be out of the office, be it your birthday, Easter, Kwanzaa, Festivus, etc. It is your right, and one of the greatest benefits of being your own boss, to celebrate any day you choose outside of work.
It is common for clients to demand an immediate response to emails or texts. By defining your office hours, you are establishing an understanding that if an email comes in after your office hours, you likely will not respond immediately. This might not sound like a big deal, but client expectations can be a slippery slope when your work day is not clearly defined and communicated. If you want to offer some after-hours access or fast turnaround for a project that will cut into your personal time, charge for it! Include an after-hours and/or rush charge clause in your contract. It is common to charge at least 1.5 times your normal hourly rate in these situations.
What methods of communication are you comfortable with?
Maybe you are happy to be reachable anytime, by any client. Good on you. Many of us, however, don't want to see a string of texts come in right before bed as a client is trying to organize their thoughts around the tasks at hand for the upcoming week. Frankly, many of us never want to see texts from clients at all. It is important for you and your clients to establish preferred communication methods during the onboarding process.
One benefit of limiting all client communications to email is that all communications are streamlined and accessible in one place. This comes in handy if you forget a detail or if you need to call a client out for changing their mind or being inconsistent. While it is perfectly acceptable to limit your communication methods to email alone, some of your clients may prefer hopping on an old-fashioned telephone call. It is up to you to determine if you want clients to have your personal phone number. If you are not comfortable giving out your personal number there are a number of alternatives to consider.
Keep in mind that it is acceptable to bill for phone calls. Some virtual assistants include weekly calls in their retainer plans or packages, while others bill calls at their hourly rate. If you are spending your working time on the phone, that time could otherwise be spent on other client work. It is absolutely fair and professional to bill for phone calls the same as a lawyer would. You can integrate call scheduling software into your virtual assistant business website if you're on our premium plan. Just make sure you include your phone call policies in your contracts.
If a client tries to reach out to you using alternative methods of communication, like your personal or professional social media accounts, the most acceptable response would be to respond to them in your contractually agreed upon method of communication during your established business hours.
How frequently should your client expect to hear from you?
Some clients are hands-off and trust you to get the work done, while others want daily check-ins. Most clients fall somewhere in between. There is no wrong or right amount of communication, and it will likely vary quite a bit from client to client and project to project. What is important here is that you are navigating and managing your client's expectations while giving yourself enough time and mental space to complete the tasks expected of you by each client.
It is acceptable to allow yourself 24 or 48 hours to respond to a client email–so long as it is stated in your contract. Hopefully, you will get a good feel for your client during the onboarding process and learn their communication style so you know how and when they expect to hear from you, and vice versa. Our Client Onboarding kit will help walk you through the process so that you are set up for a smooth and successful working relationship and nothing gets left out. We recommend ending routine communications with clients by reminding them when they should next expect to hear from you.
If their expectations cannot be met within your comfort zone, it may be best to let them go.
What services do you want to offer?
This may seem obvious, but even those of us with well-defined services on our websites have clients who want us to do more. While your primary service may be bookkeeping or branding, your client may see how awesome your business Instagram account is and ask that you manage their account. Maybe that sounds great to you, or maybe you want to stick to doing what you love. The choice is yours.
By clearly defining what you specialize in from the beginning, you have the power to choose to take on more work or refer them to another awesome colleague or member of the Virtualcopia Business Collective… hint, hint. If you do choose to take on tasks outside of your established offerings, make sure to charge the clients appropriately. Don't do tasks outside the scope of your original contract without adding an amendment to the contract that clearly states the scope of the new task(s) and how you expect to be compensated.
How do you want to be paid?
While there are many options for getting paid, remember that you can set your own terms. You can firmly set your payment terms upfront or negotiate payment terms with your client during the onboarding process. Either way, make sure your payment terms are clearly communicated in your contract for your and your client's protection. Payment terms include the amount of money you expect to be paid for the specific services you will be providing, the method(s) of payment you accept, and the schedule of payment.
You can invoice and collect payments from clients through your virtual assistant website with our Business Collective's Business Breakthrough plan, invoice through Stripe or PayPal directly, or request a check or bank transfer if you want to avoid payment processing fees. Remember you can write payment processor fees off come tax time.
Common schedules of payment include a monthly retainer, half of the total bill as a deposit to begin work with the other half upon completion or launch of the project, or percentages of the total to be paid at different project milestones.
Which tools do you prefer to use?
Perhaps your workflow is built around using certain tools but your client isn't comfortable with said tools. For example, you design mockups using Figma but your client's developer only knows Sketch. It isn't necessarily your responsibility to switch to Sketch. It is your responsibility to discuss your workflow and preferred tools during the onboarding process so that any conflicts will be identified early. If you think a conflict in tools may arise later, maybe follow up with the client to make sure their team is on the same page.
If a client requires you to use a tool that you are unfamiliar with, it is fair to include training time in your quote so you can adequately learn the tools they require you to use. If the client requires you to use a paid or premium tool, traditionally it would be the client's responsibility to purchase or maintain the subscription to the tool. Again, it is important that you discuss workflow and tools during onboarding so that these details can be included in your contracts.
What is an acceptable turnaround time for you?
This is another area that often gets overlooked when setting boundaries with clients in contracts. Perhaps you are a content writer and you have a very good idea of how long it takes you to do the research, write, and edit an article before it's ready to be published. What if your client suddenly needs a 2,000-word article by tomorrow morning? Believe me, this happens. Sure, it is possible, but you will have to delay another piece you are writing for another client, pushing everything on your plate back. Maybe because your client is paying you a hefty retainer they think they have the right to an emergency article. Maybe you want to do it for them this one time. We highly advise against this.
If you do not have a rush charge established in your contract, the best thing to do in this scenario would be to do this one-time rush job outside the scope of your original contract and create a new contract for this one-off where you can establish a fair fee for the urgent project. To do this, however, you must have already established your turnaround time in your original contract and you would likely still be on the hook for one piece of content within your normal schedule of work with the client.
Can setting these strong boundaries backfire?
Well, quite honestly you may lose a potential client or two. The more important question here is why would you want to work with someone who doesn't respect you as a business owner, service provider, and fellow human? If their expectations cannot be met within your comfort zone, it may be best to let them go. You can refer them to other VAs or just send them a generic email wishing them the best. It is not worth sacrificing your principles, private time, or headspace to make a little extra money or try not to disappoint someone who clearly doesn't show you the same respect. By presenting yourself as a confident business person with strong boundaries, you will attract clients and you will earn money. Let go of what is not serving you.
How do you end a contract when it's just not working out anymore?
The coup de gras- the termination clause. Every contract should include a termination clause- no matter what. The termination clause will cover you and your client in any number of situations. Maybe the client's business fails and they no longer need your services. Maybe you want to break up with a client who is not respecting your boundaries. Maybe the client's expectations don't match their budget. Maybe your brother died and you need to take some time off. It shouldn't matter why either of you needs to break it off, it matters that you have already established how to do it amicably.
By adhering to a termination clause in your contract, both you and your client are protected against legal action for unpaid invoices or undelivered work. It gives you legal agency if a client ghosts you with unpaid invoices. A termination clause may give either party the right to terminate the contract with 7, 15, or 30 days notice, and indicate the deliverables for which each party is responsible.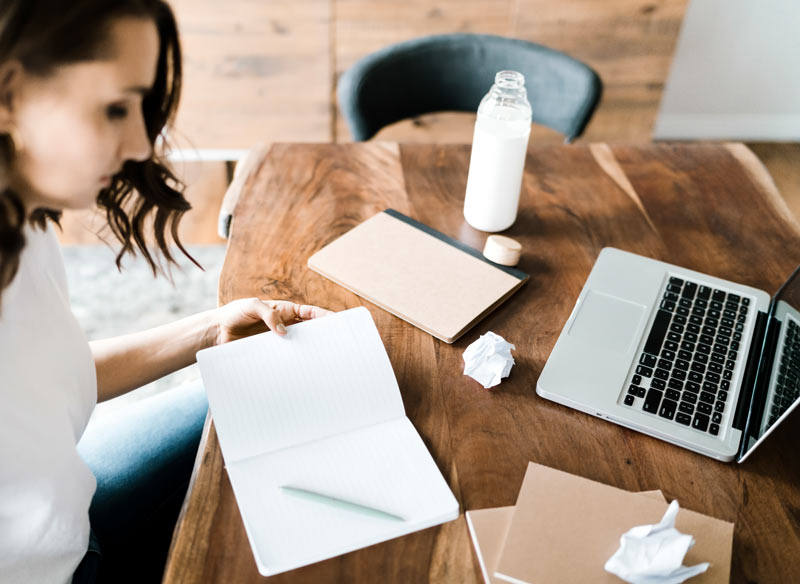 Remember, if a client is specifying when, where, and how your contracted work is being done, they are treating you as an employee–which you are not. This is actually illegal, as employers are required to pay Federal Insurance contributions and Social Security and Medicare taxes for each employee. Remember, you are paying these taxes now as a self-employed individual. You are the boss. This gives you the right to call the shots when it comes to when, where, and how you work.
Sometimes it is hard to stand up for yourself and lay down your boundaries with a client you genuinely want to please, but ultimately it benefits you, your client, and the virtual assistant industry. If you are having a hard time reinforcing your policies with your clients, please refer to our articles on sounding professional in emails and scripts for dealing with sticky client situations.
By setting strong boundaries with your clients from the beginning of your working relationship, you are basically coaching your clients to work within your self-designed professional framework and teaching them how to treat you. This framework of managed expectations and boundaries will help your business function more efficiently with fewer headaches and complaints for you and your clients, and is paramount to the holistic well-being of any self-employed service provider.
Members of the Virtualcopia Business Collective are provided with a welcome packet template that includes a worksheet to establish your core business boundaries to use in your contracts. We provide members with a variety of contract templates as well.
I am the founder of VIRTUALCOPIA Business Collective and a self-employment enthusiast. I hope to inspire others to take a leap into their own entrepreneurial journeys while providing resources and support, and facilitating a community.